E-BIKE SKILLS AND COACHING
Ebike specific skills coaching courses in the Peak District which aim to improve your technical skill and bike handling. 
We design all the courses to build confidence and bike control through progressive teaching methods, whatever your ability.
So whether you are new to ebiking and want to grasp the basics, an intermediate rider wanting brush up on the fundamental skills to take your riding to the next level, Or you're an experienced advanced rider who wants to improve specific aspects of their riding to get the most out of an ebike for fun or for improving race results, then have a look at our open and private courses below.
'Bring your own ebike or hire one of ours.'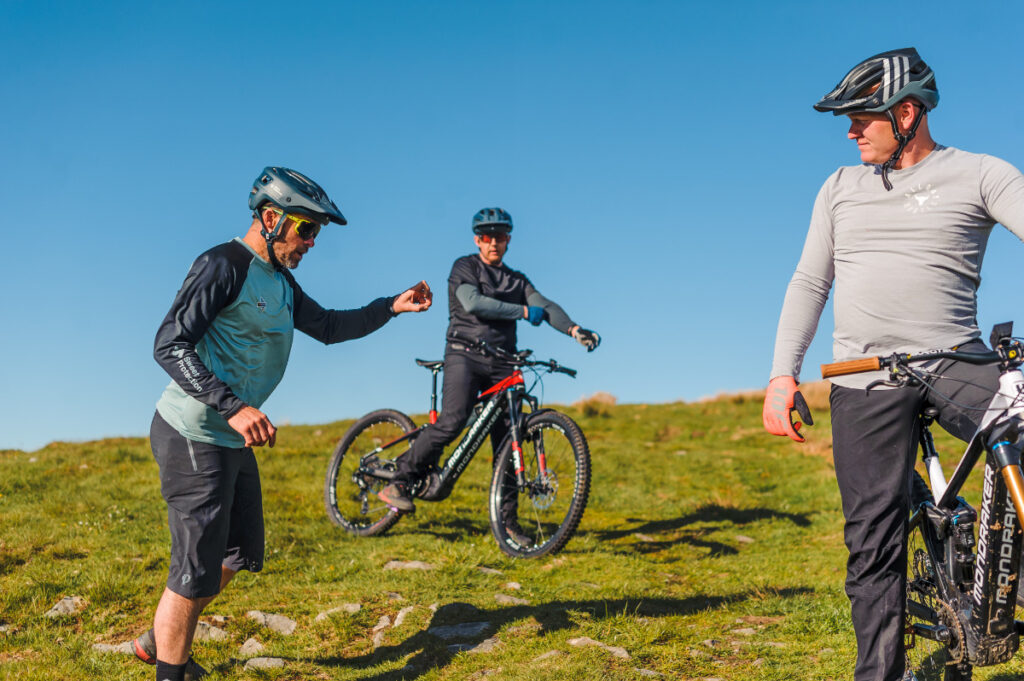 True North Adventures have been involved with ebiking for a while, from setting up the first Peak District ebike guiding company through to working with Lapierre and Haibike in testing and demonstrating bikes at large events. Our guides and instructors have been using and racing ebikes in the UK and abroad with great results for a number of years.
We also use ebikes ourselves to great effect to improve and maintain our own riding skills that is directly transferable to traditional mountain biking and racing. We've found that bike control and technique is improved from riding an ebike as all body movements and inputs have be over emphasised due to the added weight and the centre of gravity. The specific skills and technique required takes a little more practice but our specific courses are dedicated to the ebike. 
Which ever you look at it, whats not to love about them, blast up the trail only to get more runs in on the descents or travel further to explore new trails with less effort, its just amazing fun.
We operate from a number of locations but in addition we have developed our own private trails and skills area with a number of dedicated features (enduro trail with varying size berms, corners, shutes, rock gardens, roots and ruts, drop offs, jumps and series of table tops), allowing us to focus on specific techniques allowing you to confidently get the most from your ebike on the technical sections and downhills too. Whether it's carrying more speed through corners, hitting jumps and drops or improving your flow on technical trails we can help you.
We use portable training aparatus like manual machines and coaching ramps to allow progression in a controlled envirnoment which allows effective coaching repetition combined with slow motion technology also aids a clear understanding and insight into your riding so you can visually identify where you've got it nailed or where you might need some improvement.
Our range of ebike courses suit riders of all abilities.  Those new to mountain biking through to experienced riders wanting to develop their e-bike specific skills weather it be for fun or for advanced riders looking to improve their technique, speed and performance for riding with their mates or the ever developing e-bike racing scene.
Whether you're looking to get into ebiking or get the best out of your own ebike then we work with you to give you the confidence to get the most from your E-MTB in a variety of ways.
From our years of e-bike experience through racing at high level at EWS-E and gravity enduro racing we understand the specific principles and requirements for riding e-bikes so our course are developed with these techniques in mind. They just simple do not ride like an analogue (thats slang for normal pedal) bike so why use the same coaching principles as a normal bike.
We utilise many skills and techniques to help you understand and learn the fundamentals, below are just some of these…
Ebike set up, including tyre choice, correct pressures, functionality of the controls and suspension set-up
Understanding all the modes and how to use the gearing appropriately
Utilising modes efficiently to increase battery life and improve power delivery through pedalling efficiency 
How body positioning and weight transfer is so important when handling the extra weight, controlling speed and adopting flow on a trail to bring out speed and minimise risk of it going wrong. 
Using features on a trail to aid grip and control
Why wheelies and manuals aren't just for showboating
How to control traction, especially on technical climbs and understanding the dynamics of body, feet and head positioning in all aspects of riding
Improving overall bike handling and skill through both physical and mental training approach in a structured format
Introduction to eBikes - ES01
Intro to eBikes
Congratulations you've bought your first ebike.  Or, are you looking to purchase one, but want to make sure it's for you before you commit? 
This course is designed for new riders wanting to learn in a safe and controlled manner taking in the basics of electric mountain biking, how does it feel? and what techniques are required to get the most out of them.
We will safely introduce you to the world of e-biking
Course Details
Who's it for?
What you'll learn​
Itineray
Bike Hire
Payment
Ebike Fundimentals
Having developed the basic skills in the ebike starter course, or you're already a competent mountain biker.
This intermediate course delves a little deeper, really nailing those fundamental techniques to be able to safely and effectively execute more technical skills, on what is effectively a really heavy bike. 
We'll use our experience from our years of e-biking to help you progress comfortably, allowing you to dynamically move around the bike, use the assistance to generate lift and be able to weight and un-weight the bike allowing for improved flow and speed on the trail.
Getting your suspension set up for you and why tuning your suspension to the trail will enable you to ride trails with more confidence.
We will dive into bike set up like optimising your cockpit and brake lever positioning to help improve the way you ride and develop confidence on your bike.
Course Details
Who's it for?
What you'll learn​
Itineray
Bike Hire
Payment
Ebike Race Ready
So, you've only gone and signed up for your first ebike enduro race.
This full day course has been developed by or instructors with high level ebike race experience to give an insight into what will be expected on the day, from the ever growing discipline of ebike enduro racing.
Our 'Race Ready' course focuses on more advanced skills and techniques to give you the confidence at, or to enter, your first ebike race. It will also prepare you for the slightly different format used in ebike racing.
We'll Iook at the specific skills required to improve your results, to help understand why these skills need to be applied, which in turn will improve your control, speed and flow.
This course however isn't just suitable for those wanting to race. It's an ideal course for riders wishing to improve their general trail riding and bring it to a new level but at a higher speed.
Course Details
Who's it for?
What you'll learn​
Itineray
Bike Hire
Payment
Private Skills Course
Our private skills sessions are great for individuals or, groups of friends wanting the most personal tuition.
Our courses are for all ability of rider or riders who prefers the individual tuition and focus only a private course can bring.  We can run any of our group courses as a private sessions or we can create a session just for you. You may have a specific target in mind or an event and want to sharpen your skills or get ready for an important race, or you maybe new mountain biking and want to learn at your own pace.
As its totally bespoke to you its the best way to progress your riding and address specific areas.
Operating from various locations including our own private course and purpose made tracks, specifically built with features that enable us to concentrate and really hone in on those skills.
Our private skills area allows us to progress in a controlled environment, we don't –  unlike other companies, have to share our trails with anyone.  Therefore,  no pressure and more time for you to grasp a technique and practice.
Of course, if you want to combine skills training with a guided ride, then we have some great natural Peak District riding on our doorstep once you've developed those techniques and skills.
Course Details
Who's it for?
What you'll learn​
Itineray
Bike Hire
Payment
Contact us here for any queries or information